Services
Hair Regrowth Treatment
A powerful combined in-clinic/at home treatment for improving hair structure.
The Xcellaris Pro Hair & Scalp treatment by Dermaroller® is designed to create the optimal conditions for improving hair structure and reversing the process of hair loss.
Xcellaris Pro is based on natural & highly potent active ingredients which target the hair follicles and the surrounding skin tissue.
Unlike regular topical products, the active ingredients of Xcellaris Pro go beyond the surface of the scalp and penetrate deeper into the skin. The eDermaStamp® creates thousands of micro-channels which significantly increase the absorption of active ingredients, ensuring maximum treatment efficacy.
Clinical Benefits Include:
Slows down hair loss.
Stimulates hair growth.
Strengthens hair roots.
Increases thickness and density.
Maintains function and structure of healthy skin tissue.
Ensures optimal anchorage of the hair roots.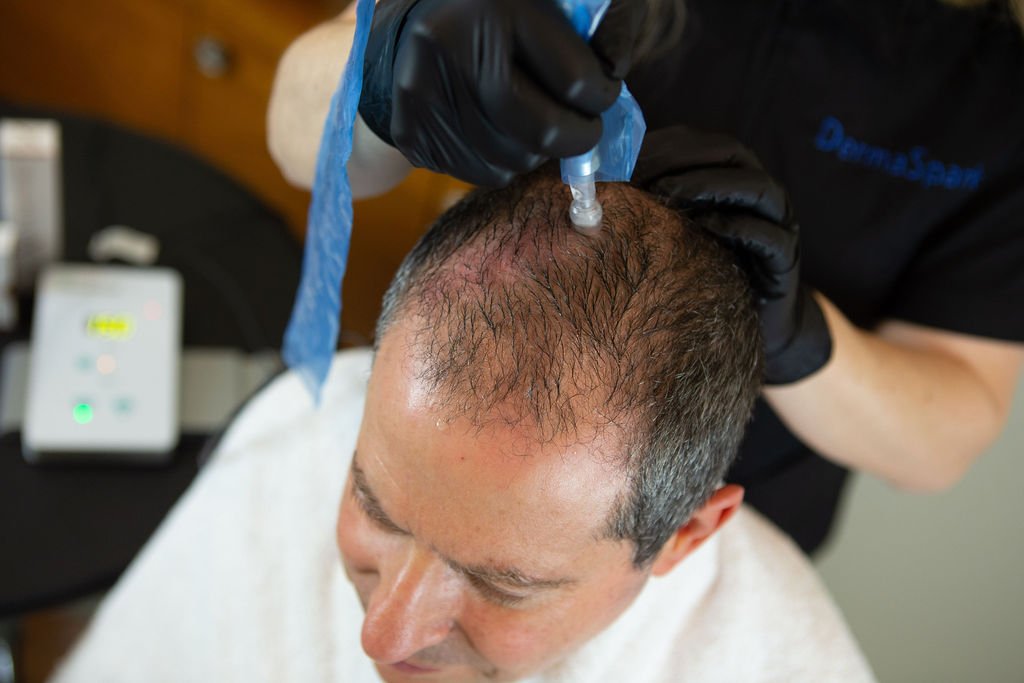 Xcellaris Pro Hair Lotion
Key Benefits
Nourishes the scalp
Creates the basis for strong, thick and healthy looking hair
Improves hair structure
Normalizes frizzy and brittle hair
Boosts hair health by providing valuable hair nutrients
4x Hair Treatment Ampules (5ml each)
4x Skin Rejuvenation Vitamin ampules (5ml each)
1x bottle of Hair Lotion (70ml)
The Hair Repair & Skin Rejuvenation Vitamin ampules are use in-clinic during the professional eDermaStamp treatments. They promote and maintain healthy hair growth and insure optimum cellular metabolism. The Hair Lotion is used at home between the professional treatments and can be combined with the home-care Dermaroller to nourish and repair hair fibers and increase hair volume.
FREQUENTLY ASKED QUESTIONS
What does microneedling feel like?
You may experience some discomfort depending on your pain tolerance. The needling itself typically feels like a slight vibration and tingle on the skin. You may experience a wind-burn or sun-burn sensation on the skin immediately after the treatment.
Do I need downtime for this treatment?
Downtime is minimal with microneedling but does differ from person to person. The treated area(s) may feel similar to a mild sunburn and may be slightly pink to red in color for the first 24 48 hours. You should avoid working out, hot showers, massages and sun exposure for 48 hours post treatment.
How many treatments will I need?
Treatments and results can vary depending on skin conditions. We typically recommend between 6-8 sessions for optimal results. Maintenance treatments 2-3 times per year are also beneficial in maintaining your results.
How long does it take to see results?
Results are not immediate. The healing process is completed only after 5-6 weeks post treatment. The most noticeable results are 1-3 months after the last session. Individual results may vary.
What type of preconditioning is required?
The treatment requires no preconditioning of the skin prior to treatment. Clients who use Accutane must stop usage 12 months prior to treatment.
Is there an age requirement or restriction for the treatment?
Clients range between 13-75 years old. Those with a health condition or concern should consult with their physician prior to scheduling a peel treatment.
THE SCALP HEALTH SOLUTION: HYDRAFACIAL™ KERAVIVE™
Keravive is a first of its kind 3-step treatment that includes an in-office component, as well as a 30-day take-home spray
1. CLEANSE & EXFOLIATE
HydraFacial Vortex Technology extracts dirt, oil and impurities from your scalp and hair follicles.
2. HYDRATE + NOURISH
Keravive Peptide Complex Solution exfoliates your scalp and nourishes your hair follicles with growth factors and skin proteins to promote a healthy scalp and healthier, fuller-looking hair.
3. EXTEND & ENHANCE
Daily use of the HydraFacial Keravive Peptide Complex Spray enhances your in-office treatment and delivers daily hydration and nourishment to your scalp and hair follicles.
HydraFacial keravive is a unique, relaing treatment designed to cleanse, exfoliate, nourish, and hydrate the scalp for healthier and fuller-looking hair for all hair types!
HydraFacial's proprietary Vortex Technology easily dislodges and removes impurities from the scalp and hair follicle. The Keravive Peptide Complex Solution delivers a hyper-concentrated blend of biomimetic growth factors and skin proteins that hydrate and nourish the scalp.
REAL RESULTS
After just 1 treatment, patients reported improvement in scalp itchiness, scalp dryness, scalp flakiness and hair fullness. Following the full course of treatments, 75% of patients reported improvement in hair fullness, 72% reported improvement in overall hair appearance and 64% said they felt more confident as a result.
Address
9015 120 St Unit #6 Delta, BC V4C 6R7